2018: Our Year in Review
21.12.2018
Posted by IGS
(Photo: Nicola Woods)
2018 was a landmark year for the Irish Georgian Society! The Society celebrated the completion of the restoration of the City Assembly House and the refurbishment of the Knight of Glin Exhibition Room. The City Assembly House has been returned to its original use as an exhibition and performance space, in the heart of Dublin's historic South Georgian Core.
The Society hosted two major art exhibitions in the Knight of Glin Exhibition Room: 'Exhibiting Art in Georgian Ireland: The Society of Artists' Exhibitions Recreated' and 'Vain Transitory Splendours': The Irish Country House and the Art of John Nankivell', as well as publishing two accompanying catalogues, ensuring there is lasting scholarship on both subjects.
We look forward to more achievements and events in 2019, and are grateful to all our members and funders for their support throughout 2018 and beyond.
January
The Society's Conservation Grants Programme entered its fifth year with the announcement of the scheme in January, supplying much needed grant aid to projects across the country. This grants programme has been supported through the work of the Society's London Chapter and the genoursity of its members who left legacies to support our work in their wills.Grants help owners and guardians of architecturally important historic buildings to fund essential work that may not otherwise be possible. The full list of 2018 grantees can be found here. The total value of grants awarded in 2018 amounted to €46,300.
February
On 26 February the Society marked its 60th anniversary, with a special commemorative e-newsletter documenting six decades of the Society's work (link here: https://mailchi.mp/igs/newsletter-from-the-irish-georgian-society-1075141). The Irish Times acknowledged the anniversary as well in an articled dated 3 March (https://www.irishtimes.com/culture/art-and-design/1950s-dublin-saving-grand-old-houses-from-the-politicians-who-hated-them-1.3409327).
The annual Spring seminar series 'Conserving Your Dublin Period House' ran throughout February, March and April in the Knight of Glin Exhibition Room in the City Assembly House. An expert panel of speakers spoke on a variety of common topics of relevance to period property owners including Sensitively Extending your Period House and Historic Windows: their history, significance and conservation.
March
Palm Beach was the location for a spring cocktail party hosted by Suzy Moran (pictured) and other fundraising events to raise funds to support the upcoming 'Exhibiting Art in Georgian Ireland' exhibition, taking place in June.
Robert O'Byrne and Turtle Bunbury spoke about the Irish Georgian Society at a fundraising event for the Society hosted by Board members Marti and Austin Sullivan in Savannah, Georgia.
April
DIT Conservatory of Music and Drama returned to its first home in the City Assembly House in South William Street, to perform in the newly restored Knight Of Glin Exhibition Room. On 15th October 1890, the Dublin Municipal School of Music opened its doors for the first time in the Assembly Rooms in William Street. The first of three free concerts took place on 30 April and ran at 'rush hour' until 21 May.
May
The Society partnered with Maynooth University and the National Museum of Ireland to deliver a symposium on 30 May focusing on silver in Georgian Ireland. The symposium showcased new research by established and emerging scholars, and examined the circumstances in which silver objects were made, used, valued and displayed in Georgian Ireland. Expert speakers included Dr Toby Barnard; John R Bowen; Damian Collins; Dr Jessica Cunningham; Dr Alison FitzGerald; Professor Bert De Munck; Dr Tessa Murdoch; Dr Zara Power and Dr Thomas Sinsteden. View the full programme here.
June
The Exhibiting Art in Georgian Ireland: The Society of Artists' Exhibitions Recreated exhibition was launched by former Taoiseach John Bruton at the City Assembly House. The landmark show of 18th century Irish art exhibited for six weeks in the Knight of Glin Exhibition Room and received extensive coverage in national and international press, including RTE News, CARA magazine, Irish Arts Review, Apollo Magazine, Country Life and The Journal. Celebrating the building's original incarnation as the first purpose-built public gallery in Britain and Ireland, the exhibition reassembled paintings, including those by Thomas Roberts, Jonathan Fisher, James Forrester, Robert Carver, Robert Healy and Hugh Douglas Hamilton, in the room in which they were first displayed between 1766 and 1780. What made this exhibition even more exciting was the decision to hang these paintings in a 'salon' style hang, as they were first exhibited (see image 1 above). Over 50 American Supporters travelled over for the launch of the exhibition and were warmly welcomes whilst touring houses in Dublin and beyond.
On 24 June Irish Architectural & Decorative Studies, vol XX was launched at Castletown House, at a reception to mark 50 years of Castletown opening its doors to the public in 1968.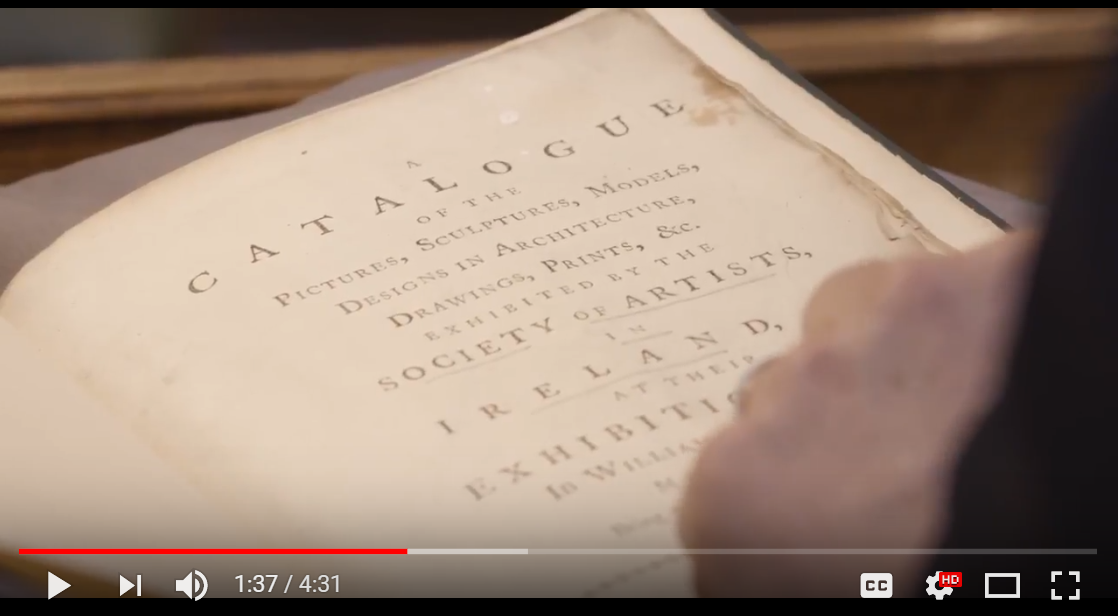 Click here to watch a video about the Exhibiting Art in Georgian Ireland exhibition
July
The Society of Artists' exhibition continued throughout the month of July with an extensive events programme, including regular curator's tours, accessible tours of the exhibition and a film screening of 'The Last September' in the Irish Film Institute followed by a panel discussion with photographer James Fennell (Burtown House), Fionnuala Ardee (Kilruddery House) and location manager Colm Nolan (Love and Friendship, Penny Dreadful), focusing on the 'Big House' in Ireland, the use of the Irish country house in cinema, and the attraction of Ireland as a film location. Listen to that podcast here. To coincide with the exhibition the IFI's 'Archive at Lunchtime' series for the month of June focused on Georgian Ireland and the 'Big House'.
We were thrilled to host two harpsichord concerts in the Knight of Glin Exhibition Room, watch and listen to excerpts from one of those concerts here.
August
As part of our conservation education programme and to coincide with Heritage Week 2018, the Irish Georgian Society and Ulster Architectural Heritage came together to host a one-day trip on 19 August 'Sharing Conservation Stories - A built heritage day in County Monaghan'. The group visited key conservation projects in County Monaghan with Kevin Mulligan, Director of the 2015/2017 IGS/UAH Summer Schools and author of Buildings of South Ulster, and Shirley Clerkin, Heritage Officer for County Monaghan.
Coleman and Susan Burke, John Nankivell, Sir David Davies and Donough Cahill at the launch of 'Vain Transitory Splendours'
Watch a video of DIT Conservatory of Music and Drama students Fionn ÓhAlmhain (Uilleann Pipes) and Jack Hennessy (Flute) performing in the Knight of Glin Room on Culture Night.

September
The autumn exhibition 'Vain Transitory Splendours': The Irish Country House and the Art of John Nankivell' was launched by IGS President Sir David Davies on 4 September. Exhibition co-curators Kevin V. Mulligan and William Laffan led a curator's tour of the exhibition for Culture Night. The show ran until 31 October and proved extremely popular with visitors. As before with the 'Exhibiting Art in Georgian Ireland' exhibition, we were grateful for our volunteer invigilators.
After a hiatus of two years, the Society was thrilled to participate in Culture Night on 21 September this year. The City Assembly House partnered with DIT Conservatory of Music and Drama to host a series of short musical performances in the Knight of Glin Exhibition Room. Watch a short video of one of these performances here.
The Great Georgian Architects lecture series on 11 September it ran for eight weeks until 30 October, with eminent scholars delivering a series of evening lectures celebrating the works of Dublin's great Georgian architects responsible for designing the classical buildings of Dublin during the reign of Kings George I to IV.
October
For Open House Dublin weekend (13-14 October) volunteers led regular tours of the City Assembly House and the John Nankivell exhibition. We were also delighted to welcome back musician Yonit Kosovske to the Knight of Glin Exhibition Room who performed a series of afternoon harpsichord concerts over the weekend.
The annual US fundraising galas took place in Chicago and New York, raising money for conservation works to the Leixlip Castle boathouse, Myrtle Grove, Co Cork, and Curraghmore Co Waterford.
We were thrilled to welcome back our volunteers to the City Assembly House on 24 October for an evening party, with drinks generously sponsored by our friends in Chinnery Spirits!
November
The inaugural Mary Bryan memorial lecture took place on 1 November, the lecture was delivered by Livia Hurley (UCD) on 'Irish Utopias', which situated nineteenth-century settlements within the Irish Utopian Studies canon and questioned whether these aspirational spaces unwittingly materialised as dystopian in their tightly controlled planning and in their function as showcasing for philanthropic industrialists.
On 22 November the Society, in association with The Heritage Council, presented a day-long seminar 'Taken for Granted: spending to save Ireland's architectural heritage' examining the critical role grants play in preserving our architectural heritage. Showcasing best conservation practice achieved and the technical lessons learnt through funding provided by the Irish Georgian Society, The Heritage Council, the Department of Culture, Heritage and the Gaeltacht and other governmental and non-governmental grant giving bodies. View the full programme here.
Michael Wall, Chairman IGF and Donough Cahill, Executive Director IGF with Molly Claire Gillett (Concordia) and Logan Morse (Sussex).

December
Following on from the Taking for Granted seminar, the Irish Georgian Society initiated a campaign to petition the government to increase financial support for building conservation in Ireland. Read the full press release here.
The 2018 Desmond Guinness Scholarship was awarded to Molly-Claire Gillett (Concordia) for her study of the collection of the 19th century lace designer Emily Anderson. Logan Morse's study on Irish landscape painter George Barret Sr. (1730–1784) was also acknowledged, and she was awarded the Desmond Guinness Prize. The Scholarship and Prize were presented to Ms. Gillett and Ms. Morse by Primrose Wilson OBE on Saturday 8 December, at IGS' annual members' Christmas Party, held at the Irish Georgian Society's headquarters in the City Assembly House.
'White Elephants: The Country House and the State in Independent Ireland, 1922-73' was launched by Senator David Norris in the Knight on Glin Exhibition Room on 6 December. Drawing on case studies of significant Irish houses including Russborough, Bishopscourt, Hazelwood and Muckross, this book illustrates the complex nature of the attitudes of politicians such as Charles J. Haughey and senior civil servants to the country house. Copies are available to purchase from the IGS bookshop.